ISO certificates as proof of our compliance with the world standards
By
Published on: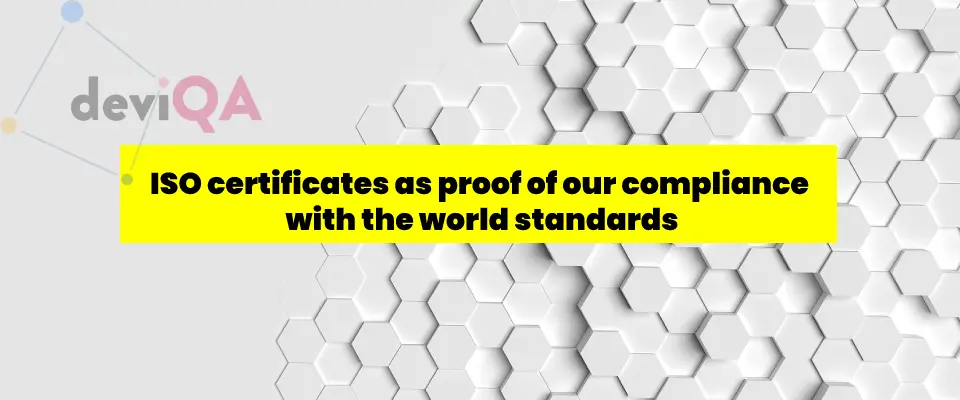 From the very first day, DeviQA has strived to become a real market leader and provide services in accordance with the highest world standards. Over the years there have been twists and turns, small and big achievements. However, today we are glad to share with you some special news. DeviQA has been granted several ISO certificates - ISO 9001:2015 Quality Management Systems, ISO 20000:2018 IT Service Management systems, and ISO 27001:2013 Information Security Management Systems.
Why is it important?
Well, these international certificates prove that we take information security management, service management, and quality assurance seriously. Thus, we have managed to establish, implement, maintain, and continually improve our information security management system, applied a risk-based approach and Plan-Do-Check-Act cycle to our quality management system, and we have all the required capabilities for efficient service planning, design, delivery, and improvement.
As long as DeviQA works on the international market, for the company it is indeed important to be ISO certified and demonstrate to clients and partners its adherence to the high international standards. These ISO certificates serve as proof of our professionalism and encourage us to work even harder in order to reach new horizons and please our clients with unmatched services.
To wrap it up, we would like to extend our thanks to all members of our tight-knit and hardworking team who day by day deliver excellent results and contribute to the success of the company. Acquisition of these ISO certificates is an important achievement for DeviQA and our common victory that we are proud of.