DeviQA Receives an Award for Being one of the Most Reviewed Application Testing Company in Ukraine
By
Published on: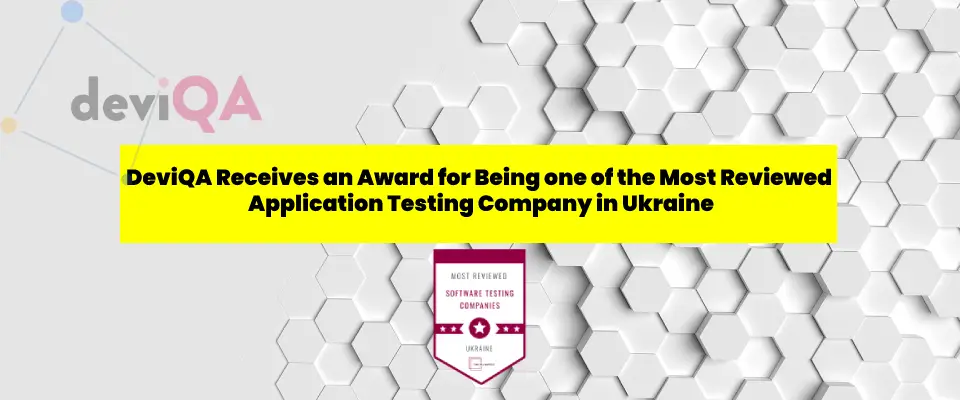 DeviQA is well-known for its incredible quality assurance and testing services. With over a decade of experience in the market, our team was able to grow to 250+ employees and we've managed to partner with more than 500 projects. We are very passionate about what we do and it is reflected in the countless successful projects we handled.
To give you an insight into our company's history, we started as two committed QA engineers who wanted to create a team of talented and qualified QA experts. Our goal was to build an all-in-one QA company that provides all the services that you may need for your business. Fast forward today, our company was able to grow significantly along with the services we provide.
As a testimony of our company's evolution, here is a recent collab with Solebit (MimeCast) that we want to highlight. They are a company that provides identification and prevention of zero-day malware and unknown threats. Our team was able to reduce their build time significantly and simplify the way they run their tests without the involvement of a tech person.
Another incredible highlight of our year is being able to secure a spot on the 2021 Manifest list of most reviewed application testing companies in Ukraine. The Manifest is a business data and a company listing resource that provides a platform for vendors like us to reach out to potential clients from all around the world.
Our team is honored to be included in this prestigious list. You can expect the same amount of passion and dedication from our team moving forward.
Are you interested in working with us? Get in touch with our team today and let us know how we can help.