Test Automation Metrics: how to improve your automated testing effectiveness and ROI
By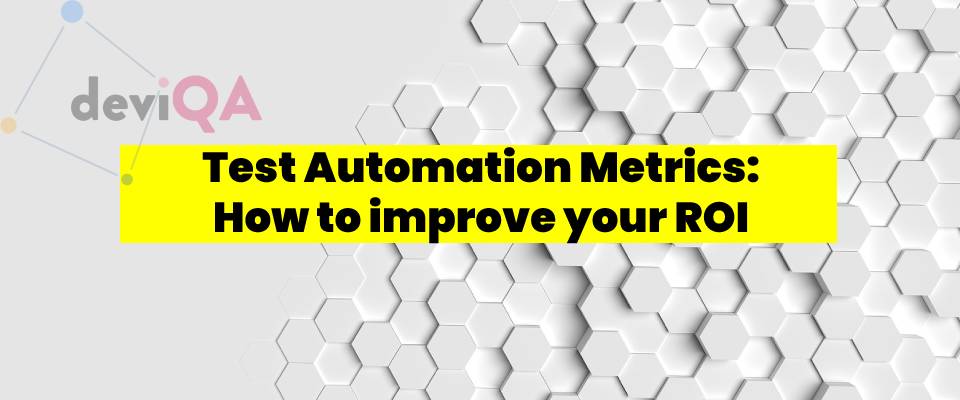 Introduction
Today, software development companies should be able to create high-quality products and keep up with the hectic pace of life. In these terms, test automation is a powerful technique that considerably speeds up product delivery without loss of quality. However, test automation requires significant investments, and without measurement of its efficiency, it can be just a waste of money.
A thorough analysis of test automation helps identify its weaknesses and strengths. Therefore, you have an excellent opportunity to define the best ways of test automation optimization to get the most out of it and considerably increase return on investment.
Now, as you understand the importance of test automation analysis, let's consider in detail metrics that must be taken into consideration.
The most important metrics of automation testing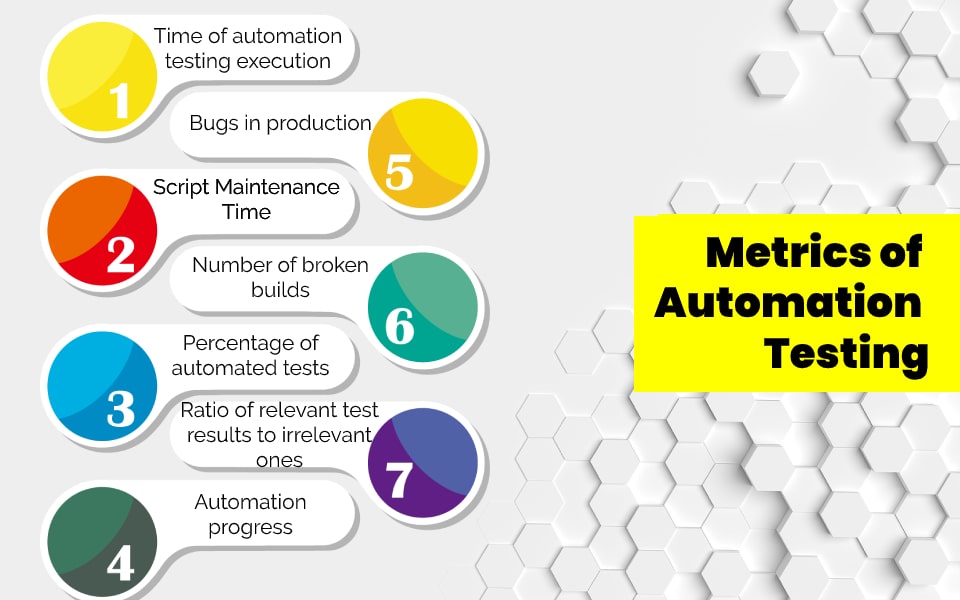 Essentially, automation testing can be assessed with hundreds of metrics. Below you can find the most important of them that can provide you with really valuable insights.
Time of automation testing execution
The core mission of automation testing is to shorten the total test execution time. Therefore, you should measure how much time it takes to complete the whole testing to ensure that automation testing indeed helps save time.
Script Maintenance Time
To provide effective automation testing, it is needed to maintain your scripts continuously. In these terms, it is important to measure the time spent on this maintenance as it provides insight into the overall value of your test automation. If script maintenance is extremely time-consuming, automation testing may be useless.
Percentage of automated tests in total test coverage
Automated tests constitute a part of the total test coverage. The percentage of automated tests helps evaluate the progress of a test automation initiative. Besides, using this information, you can tweak your test strategy and cover more test scenarios with scripts if it makes sense.
Automation progress
If your goal is to automate 100% of all automatable test cases, you should monitor the number of actual automated test cases to track your progress towards the goal and gain maximum test coverage.
The ratio of relevant test results to irrelevant ones
During automation testing, some tests can fail. If failures result from defects in software, test results are relevant. When test failures are triggered by problems with test scripts, test results are irrelevant. The high rate of irrelevant results is a sign of the low efficiency of your test automation. In this case, you should pursue an investigation to identify problems and improve automated testing.
Number of broken builds
If you have implemented a CI/CD process, it is an important metric that measures the number of builds broken by the automated tests. Therefore, you can define the quality of code created by QA engineers.
Bugs in production
While the aim of any QA team is to define bugs at the early stages of software development, some bugs still sneak into production. For this reason, it is advisable to track these bugs in order to define gaps and weaknesses of your test automation process and be able to catch similar bugs before software release in the future.
How to use automation testing metrics properly
As for the measurement of test automation efficiency, it is vital to set the goals and choose the right metrics that should be objective, measurable, meaningful, and simple.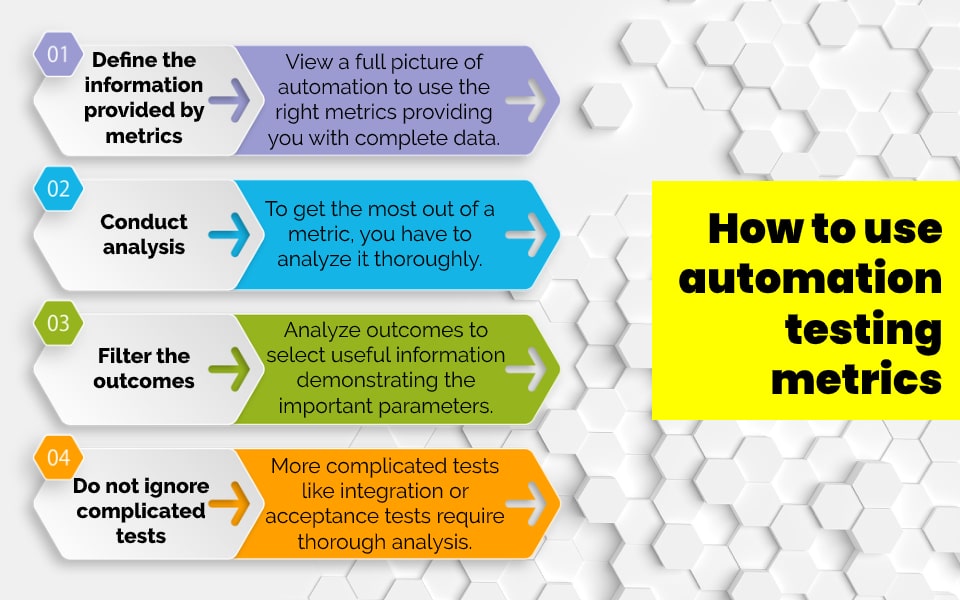 To gain valuable insights and accurate results, you should also utilize automation testing metrics properly. That is why we recommend sticking to the following plan:
Define the information provided by metrics
You should view a full picture of automation to use the right metrics providing you with accurate and complete data. The right choice of automation testing metrics helps you avoid misleading results.
Conduct analysis
To get the most out of a metric, you have to analyze it thoroughly.
Filter the outcomes
Metrics may provide you with irrelevant data. For this reason, it is advised to study and analyze outcomes to select useful information demonstrating the important parameters of automation testing.
Do not ignore complicated tests
It is pretty easy to get stats on unit tests. Meanwhile, more complicated tests like integration or acceptance tests require more redundant tracking and thorough analysis. However, the invested effort will be justified with valuable insights.
How to improve test automation effectiveness and ROI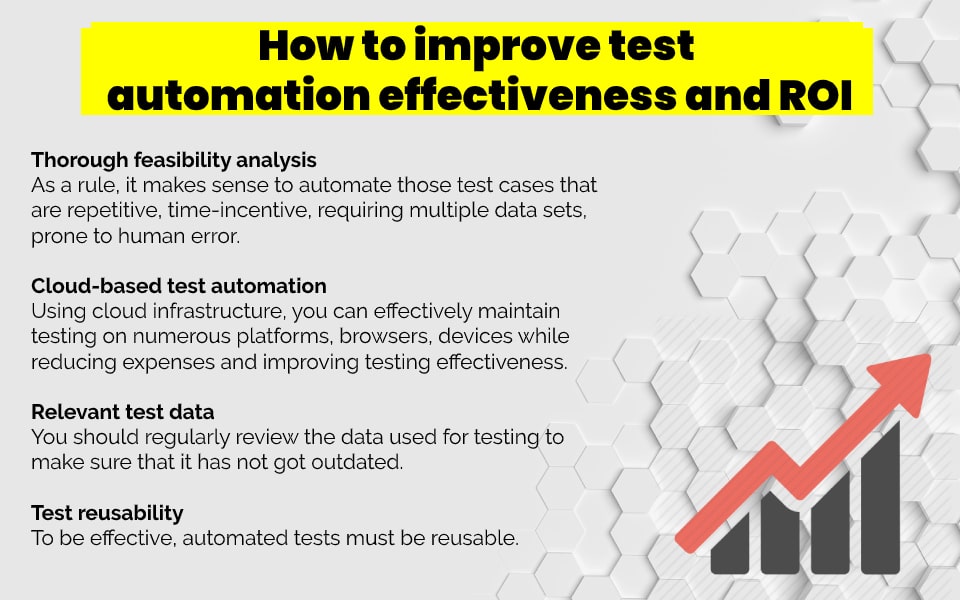 Test automation can bring numerous benefits. Still, its implementation requires significant investments. That is why it is essential to get the best out of it and ensure high ROI. Below, you can find some useful tips that can help you succeed with this.
Thorough feasibility analysis
You can have a temptation to automate every single test case. Still, it is important to keep in mind that extensive automation can be neither cost-effective nor efficient. Getting down to automation initiatives, you need to choose the suitable test scenarios. Comprehensive automation feasibility analysis enables you to identify such test scenarios. In these terms, it is advised to pay attention to such factors as the functional requirements of your AUT, dependencies, possible risks, test case priority, etc.
As a rule, it makes sense to automate those test cases that are repetitive, time-incentive, requiring multiple data sets, prone to human error and must be run on various hardware or/and OS.
Cloud-based test automation
As there is a need to consider a great diversity of platforms and browsers, cloud infrastructure can be beneficial for comprehensive testing and ROI boosting. Using cloud infrastructure, you can effectively maintain testing on numerous platforms, browsers, devices while reducing expenses and improving testing effectiveness.
Relevant test data
Quality test data play an important role in successful and effective test automation. Data must have the proper size and involve comprehensive information that corresponds with testing requirements. Besides, various data sets must be grouped and categorized. You should regularly review the data used for testing to make sure that it has not got outdated.
Test reusability
To be effective, automated tests must be reusable. In these terms, automated tests must not be affected by any UI changes. In such a way, all the UI objects and properties must be identified and located. The unique names of the controls also ensure test stability and resistance to UI changes. This approach provides smooth work of automated tests.
Test maintainability
To provide effective test automation, you should take into consideration continuous software evolution. Therefore, it is recommended to have test plans with smaller and independent test cases rather than a monolithic testing architecture. You should build test suites that can be easily maintained to keep up with software development.
Appropriate automation framework
An appropriate automation framework meets project requirements, includes everything that a great test automation solution needs, cuts down code maintainability costs, and enables smooth integration into the CI/CD pipeline. Using an appropriate automation framework, you can significantly improve overall productivity, as well as save a lot of time and effort.
Comprehensive analysis It is important to regularly analyze your test automation to ensure its effectiveness, uncover pain points, and find ways for optimization. The mentioned in the article metrics can come in handy in this case. You should never ignore these metrics if you wish to achieve excellent results.
Conclusion
On test automation implementation, it is essential to ensure that it is indeed effective and provides high ROI. In this context, it is recommended to pay particular attention to the main test automation metrics that can provide useful information helping you measure the current efficiency of your test automation process and identify ways to enhance it even more.