Tips to Optimize Testing of iOS Mobile Apps
By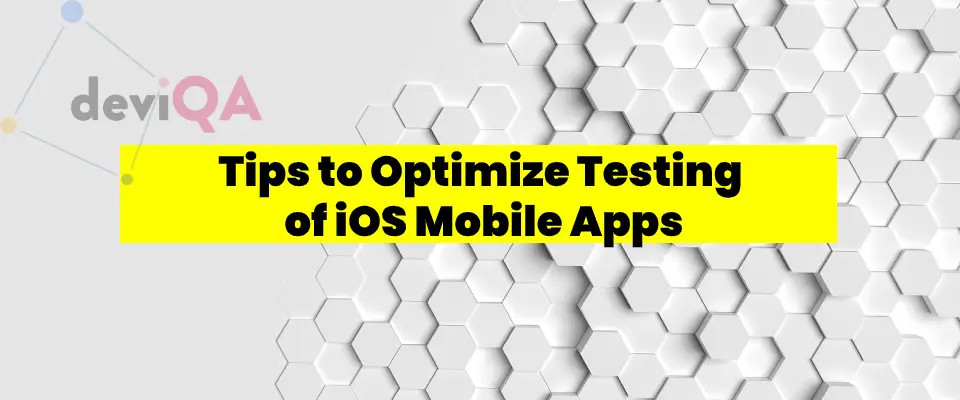 iOS is a mobile operating system developed exclusively for Apple devices.
Apple is a global brand known for its high-sky quality, user-friendliness, and attention to detail. So everything related to Apple is associated with premium quality, including mobile applications.
Millions of people from all over the world have become brand advocates and devotees. So it is not surprising that the iOS operating system holds about a 29 percent share of the global market, being second only to Android.
Good iOS applications must comply with the high Apple standards in order not to receive a rejection from the App Store. As you understand, comprehensive and effective app testing is a must in this case. So we prepared some useful tips that can come in handy especially if you are just as green as grass.
First of all, we'd like to start from the basics. QA procedure includes plenty of tests of various types to check all ins and outs of an iOS application and reveal as many defects as possible. Nevertheless, the main pillars a QA team leans on are the following:
Network testing
It checks iOS app operation with varied types of network connection (e.g. WI-FI, 2G, 4G, 3G, 5G, etc.).
Functional testing
It is executed to make sure the functionality of an app works properly and complies with the project requirements.
Performance testing
It is conducted to identify the app speed, responsiveness, and stability under different workloads.
Compatibility testing
It assures that an iOS application works properly with various screen resolutions, and hardware specifications (e.g. memory size, camera, microphones, processor speed, GPS modules, etc.).
Interruption testing
This testing checks app behavior during different interruptions, the most common among which are loss of battery power, incoming calls, messages, or notifications, battery removal, app updates, and others.
Usability testing
It is executed to make sure that an app is convenient, intuitive, user-friendly, and provides a great user experience.
Security testing
It checks if an app meets security requirements by means of penetration testing, vulnerability testing, security scanning, etc.
Installation testing
It is executed to assure that an app can be properly and smoothly installed, uninstalled, and updated.
Recover testing
It verifies whether an application can easily recover from a crash, hardware failure, or any other critical issue.
As long as the scope of work is clear, let's have a look at the nitty-gritty.
Tip 1. Study your target market in order to maintain a proper testing environment
When it comes to mobile app testing, it is important to execute app testing on real mobile devices. Compared to the number of Android-powered devices available on the market today, the range of Apple devices is leaner. Still, it is rather expensive and time-consuming to check app operation on all available devices. The best thing you can do is to carry out market research and reveal the most widely-used iOS versions and device models. With this information, you can maintain your testing environment correspondingly to assure that your iOS app will run smoothly on the devices of the majority of your target users.
Tip 2. Pay Particular Attention to Performance Testing
As we have already said, performance testing verifies the behavior of an application, i.e. its loading time, scalability, response time, stability, etc., under different workloads, As a rule, it is automated and aimed to:
Identify how many users can use an application synchronously.
Check app behavior with increasing intensity while carrying out any actions.
Check app behavior while it is run for many hours with an average workload.
Check app behavior under stress conditions.
Check app work as its database is growing.
Tip 3. Use the Following Performance Test Scenario
Check whether an iOS application runs equally well with different network loads.
Check whether your current network provides the proper application operation with various user loads.
Make sure that an app does not contain weak spots that can affect its performance.
Verify that response time corresponds with the project requirements.
Rate app ability to handle the estimated volume of loads.
Estimate a time period during which a battery can provide proper app running with scheduled loads.
Check for disruption on switching from Wi-FI connection to 4G, 5G, etc, and also the other way around.
Check a level of battery consumption.
Make sure memory leak is in the norm.
Check app stability under high user load.
Check the app performance with the unstable Internet connection.
Tip 4. Security is of primary concern
Security testing checks system safety and reveals risks related to possible data breaches, viruses, and cyber attacks. Its major objective is to ensure the secure protection of sensitive data and a system as a whole.
Here are the core aspects of security testing:
Make sure that sensitive user data such as usernames, passwords, and bank details are protected against hacker attacks.
Check that it is impossible to get access without appropriate authentication.
Make sure an iOS application demands to set a robust password.
Make sure that an appropriate session timeout is used.
Examine an app to reveal dependencies and sensitive areas that can be used as a loophole by hackers
Check whether an app can withstand SQL-injection type of attacks.
Check whether an app can withstand DoS attacks.
Check session management for protection against unauthorized access.
Carefully inspect system file interactions to uncover possible vulnerabilities.
Check whether an app can withstand malicious attacks.
Provide adequate data security control on an ongoing basis.
Examine the user files and mitigate possible risks.
Make sure that an app is not exposed to buffer overflow or violation of the information integrity in memory. - Study different data streams as well as check them for possible loopholes.
Tip 5. Never Ever Neglect Usability Testing
Usability testing is executed to check whether an iOS application is convenient and engaging. Usability testing is a must as it is indeed important to build a user-friendly application with intuitive navigation and compliance to the established standards. So, take the following steps to execute proper usability testing of iOS apps:
Make sure buttons and icons have a proper size for easy tapping.
Check whether an app layout is intuitive and clear.
Make sure icons and images well suit an application environment.
Make sure buttons referred to the same functionality have the same color.
Ensure minimum keyboard input.
Ensure that there is an opportunity to step back or cancel an operation if a wrong action has been made.
Make sure a contextual menu is not stodgy.
Check whether app text is well visible and readable.
Make sure suitable font size is used in default.
Make sure you can close an application any time, and it can be later resumed.
Check whether a required language is used if an application has a localization option.
Make sure a user can easily and quickly perform end-to-end scenarios at the first go-off.
Tip 6. Pick up the Best Tools for Testing
What is a perfect iOS testing tool like? Is it open-source or commercial? What options should it provide? The answer is pretty simple - use several tools to achieve the best possible results. Below you can find some of the most widely-used and helpful tools for iOS app testing:
KeepItFunctional or KIF. This is a tool used for integration testing of iOS apps. It allows QA teams to execute test cases on Objective-C in iOS simulators.
iPhone Configuration Utility or iPCU. This tool helps create, maintain, encrypt and push configuration profiles. Besides, it provides different versions for Mac and Windows.
TestFlight. It's a great tool for beta testing of iOS apps.
Crashlytics. This tool is also used for beta testing of your apps.
Calabash. This is a tool that enables automated UI Acceptance Tests.
Appium. The tool also allows writing UI tests for your mobile apps.
Tip 7. If you have to use simulators/emulators, use at least the most reliable ones
Simulators are considered to be a taboo among QA theorists. But the reality is cruel and far too often QA engineers face a need to use a simulator. Of course, it cannot be compared with real mobile devices but it is a lifesaver if you do not have a required device in place. So the best thing you can do is to utilize the most reliable simulators, some of which you can see below.
The core merit of this great simulator is that it is in-browser, i.e. there is no need to download a program. You can just upload your iOS app through their website or special API and get to app testing. In such a way, iOS apps can be run within a web browser on any PC. Choose a device, iOS version, click "emulate" - and Presto! An environment to test your iOS app is ready.
Xcode Simulator is an iOS emulator for Mac only embedded into Apple's own Xcode IDE. So it is not surprising that this emulator is deemed to be the best one. It is installed as a part of Xcode tools and works as a standard Mac app on your desktop.
The Simulator is indeed good at emulation of different user interactions on iOS devices like tapping, scrolling, rotation, etc.
TestFlight currently owned by Apple is known as an official emulator to test iOS apps on Windows. It is not so easy to use this emulator on the fly, but as soon as you have got a sense of it, you will highly appreciate its merits.
Software testing is a great responsibility as a QA team is in charge of product quality and users' happiness. This responsibility is even heavier when it comes to iOS application testing because there is a need to comply with the stringent requirements and keep up with the most well-known and reputable brand in the world that is Apple. So in order not to lose your face, not let your client down, and to make users happy, it is essential to provide complete and effective testing in order not to miss out on anything and hit the market with a high-quality product. Keep in mind our tips and you will succeed in your iOS app testing.