What things should you consider before outsourcing testing function?
By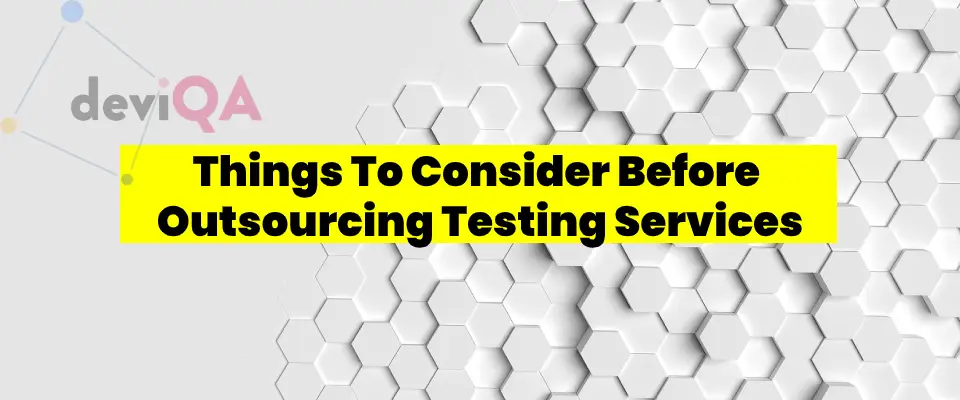 Outsourcing has become a trend in the IT sector. Numerous companies have highly appreciated its benefits. It is indeed convenient to entrust non-core tasks to those who are really good at this and save some money in addition.
In these terms, it is not surprising that software testing is one of the most outsourced services. Many companies struggle to provide a comprehensive QA procedure and not to leave out important testing aspects. On the flip side, with the professional help of a competent software testing company, businesses have one less task to worry about.
Still, when it comes to outsourcing, it is important to find a trustworthy partner. Taking into account the fact that these days a great number of software testing companies offer their services, it is pretty easy to get frustrated and distracted with such widest breadth. Search for a perfect software testing company may seem to be like looking for a needle in a bundle of hay. Yes, if you wish to pick up the most suitable company, it may take a lot of time and effort, as consistent research and analysis must be conducted. To simplify this task, we have made up a list of things that you should consider before outsourcing software testing services.
Define the most appropriate type of outsourcing
It is worth noting that are several types of outsourcing - onshore, nearshore, and offshore.
Onshore outsourcing is a collaboration with a company based in your own country;
Nearshore outsourcing is a collaboration with a company based in a country that borders your country;
Offshore outsourcing is a collaboration with an oversea company.
Which type to choose depends on your goals and requirements. For example, consider offshore outsourcing if you want to cut down expenses, or opt for onshore or nearshore outsourcing if you want to avoid a language barrier and simplify communication with your QA team.
Assign a senior-level QA engineer
However, good and reliable your outsourcing software testing company is, it would be thoughtless to leave the QA procedure unattended. All in all, it is always better safe than sorry. That is why it is essential to have at least one in-house senior-level QA expert to manage an outsourced QA team and collaborate with a service provider more effectively. First of all, this person can help you define your QA goals and requirements to select the best possible outsourcing software testing team. Afterward, your QA expert will be responsible for the review of test artifacts, software requirements update and information sharing, monitoring and assessment of vendor performance, making final decisions in controversial situations, and many others. In other words, having a competent and experienced QA professional in your in-house team, you can effectively control the performance of the outsourced QA team.
Check the experience of a prospective QA partner
Rich experience is a valuable asset demonstrating the proficiency level of the company in question. The longer track record a company has, the better. Vast experience and varied background mean that a QA team will be able to settle any issue and offer the most effective solution. Moreover, only having an experienced QA team, you will be able to focus on your top priorities and let real QA experts do their job. One more important aspect in this context is domain expertise or vertical expertise. When it comes to extremely specific software, domain knowledge can be a must. Besides, whatever the case, domain expertise lets QA engineers better understand the way a product should work and therefore reduces testing time.
Never neglect portfolios
If you want to outsource software testing to a reliable company, your search should cover portfolios of prospective candidates because a portfolio is one of the most accurate judgment criteria. In such a way you can have a look at the previously completed projects, assess their quality and applied solutions. Besides, in such a way you can check whether the company has already dealt with products similar to yours.
Consider reputation and thought-leadership
To achieve excellent results, it is important to outsource software testing to the best-of-breed company with a spotless reputation. So, check whether a vendor has partnered with well-known, reputable companies and whether it is an important player and a thought-leader in its niche market. Besides, it would be useful to revise the clients' feedback on social networks and reliable review platforms. This will provide you with an insight into the company's goodwill and prestige.
Ask about facilities in place
Leveraged facilities play an important role in quality assurance. That is why feel free to ask your prospective providers of software testing services whether they use the most advanced technologies and tools as well as apply innovative methodologies and techniques. If you outsource software testing to a company that keeps pace with modern technologies, you can be confident in the high quality of provided services and fast test execution.
Have a look at the range of provided software testing services
Before signing a contract, make sure that a service provider offers a wide range of quality software testing services. As your project develops, you may need more and more services that may seem to be irrelevant currently. So if your outsourcing software testing company provides the whole possible range of services there will be no need to search for one more vendor to fill in the gaps in the future.
Make sure of the flexibility and scalability of an outsourced QA team
A perfect QA team must be flexible in the broad sense of the word. So it is strongly recommended to outsource software testing to a company that can easily adapt and effectively respond to frequent changes in project requirements. This means that an outsourcing provider should have infrastructure and resources on a sufficient scale to ramp up a QA team whenever it is needed.
Prepare a Service Level Agreement (SLA)
Outsourcing is a unique collaboration. To secure yourself against all possible risks, it is worthwhile to sign corresponding legal documents determining the terms of the future partnership. In this context, a service level agreement can protect the rights of all contracting parties, mitigate risk, and establish trust. As a rule, SLA terms involve deadlines, client satisfaction, the scope of work, conditions of service availability, reporting processes, responsibilities of each party, etc.
Pay heed to a Non-Disclosure Agreement (NDA)
This item corresponds with the previous one as it is also important to protect yourself in the terms of data security. NDA is a legally enforceable contract establishing confidentiality between a client and a service provider. By signing a non-disclosure agreement, parties commit themselves not to release, copy, modify, or make use of the information in any way that is not authorized by its owner. So it is reasonable to prepare a draft of the NDA and discuss its terms with a software testing company in advance.
Corporate culture is also worth attention
To get the most out of software testing outsourcing, it is important to check whether the corporate culture of a prospective service provider corresponds with yours. So make sure in advance that its workflows and managerial strategies correspond with your requirements and that it can provide an easy onboarding process.
Do not buy into the low rates
Looking for outsourcing software testing services, you can find the most varied offers. Some of them can be rather meager. Still, keep in mind, low rates do not always mean low total cost and on the contrary are associated with possible low quality of services, protractions, hidden costs, and a lack of experience. If you stumble on low-cost outsourcing software testing services, you'd better carry out a consistent quality check.
Pay attention to the location of an outsourcing company
If you have opted for offshore outsourcing, it can result not only in the lower rates but difficulties related to the time difference, language barrier, and cultural peculiarities. In these terms, make sure that the business hours of your prospective QA partner at least partially coincide with yours, that members of the QA team have excellent language skills, and that their cultural peculiarities are compatible with yours. Software testing outsourcing enables businesses to receive qualified professional QA services at a lower cost. Still, to achieve great results, you should spend some time and make effort to conduct preliminary research and hunt up a reliable and competent outsourcing software testing company. Keep in mind the aspects mentioned above and you will easily find an appropriate QA partner.