A brief guide to eCommerce testing
By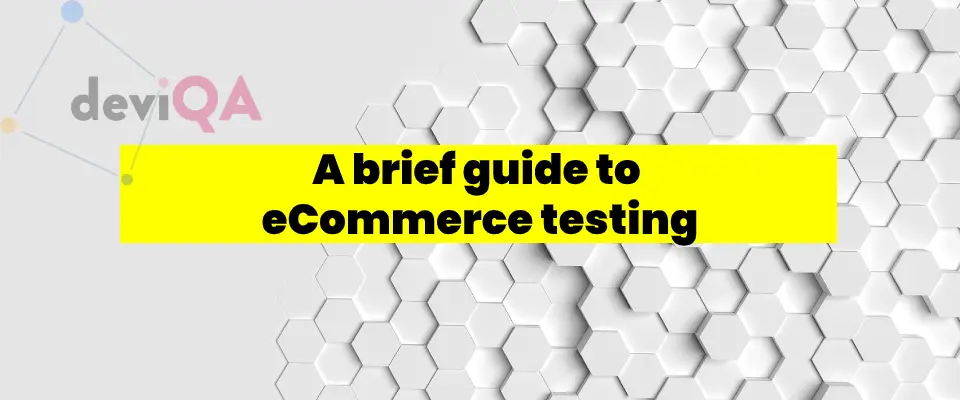 The shopping experience has immensely changed over the last decade. These days for a majority of people it is a usual thing to buy goods of the most diverse types online. Convenience and time saving are the main advantages of online shopping that nudge even skeptical shoppers to give it a try. Consequently, today there are millions of online shoppers, and there is no lack of e-shops. Therefore, those who are engaged in the eCommerce business have a lot of opportunities, but also face a serious challenge which is severe competition. To outshine rivals and win customers' hearts from first sight, it is essential to pay particular attention to e-store testing. If you want to dig deeper into the topic, read on.
What is eCommerce Testing?
eCommerce testing can be defined as a process of checking an eCommerce website or application against specifications in order to make sure that it works, looks, and feels as expected. In these terms, consideration should be given to every single aspect such as design, layout, functionality, usability, page speed, security, stability, integrations, and more.
When performed properly and continuously, testing not only improves the overall shopping experience but also significantly boosts conversions. Below there are some reasons highlighting the importance of eCommerce testing.
Importance of Testing eCommerce Products Is Not Hollow Words
To succeed with the eCommerce business, you should treat every client like royalty. There is no room for crashes, non-functional navigation, dead links, slow page loading, and other stuff that can annoy or distract users.
To provide a smooth shopping experience, deliver services of the highest quality, and meet buyers' expectations and demands, the cultivation of a testing culture is a must. It suggests the use of both manual and automation testing. A clever combination of these two approaches provides:
Complete customer satisfaction;
Prevention of critical post-release bugs and high expenses related to their fixing;
Seamless user flow and user-friendliness of an app;
Rock-solid security and sensitive data protection;
Compliance with accessibility, security, safety, and other industry standards, regulations, and procedures;
The capability of an online store to withstand huge loads.
All the mentioned above benefits result in great customer engagement, a high convention rate, and, consequently, high sales.
Online shoppers are very demanding. In case your website does not meet their expectations, they can easily find an alternative taking into account that there are a great number of e-stores. Therefore, in order to build a great reputation and not lose a single customer, e-commerce testing should not be ignored. A QA team should be engaged from the project outset, and an e-Commerce product should be properly tested after each upgrade, modification, or implementation of new features.
Crucial For eCommerce Solutions Types of Testing
To gain desired results and deliver to end-users an e-Commerce solution of sky-high quality, it is essential to use a holistic approach. The whole set of tests should be thoroughly carried out. Besides, when it comes to large-scale online shops, automated testing is introduced to optimize the whole QA process while being complemented by manual testing.
In terms of testing types, the following ones deserve particular attention:
Functional testing
Functional testing focuses on the work of functionality. While the set and number of features may vary from an e-store to an e-store, there is a range of common functionalities. So a suite of functional tests should cover the following core functionality: sign up, sign in, product search, filters, sorting, shopping cart, inventory management, recommended products, checkout process, payment processing, order confirmation, order tracking, refund, etc.
GUI testing
Buyers interact with an eCommerce solution using a graphical user interface. Therefore, it is crucial to check GUI elements (e.g. buttons, icons, menus, toolbars, text fields, checkboxes, and more) for availability, overlapping, size, color, location, clickability, functioning, etc.
Cross-browser testing
To ensure great work of an online shop and an awesome user experience regardless of the browser type (Chrome, Opera, Firefox, Safari) and its version, cross-browser testing is conducted as well.
Accessibility testing
This type of testing ensures that an online shop can be easily used by people with disabilities like those suffering from blindness, deafness, and cognitive or physical problems. A QA team checks whether an eCommerce website is compatible with diverse assistive technologies.
In such a way you can not only enlarge the number of prospects but also ensure compliance with important regulations like WCAG, Section 508, ADA, etc. Depending on your target market, these may be usual recommendations or even compulsory legal requirements.
Performance testing
Under any conditions and loads, a decent online shop should work like a Swiss watch. To provide such work, a set of performance tests should be performed. It includes load testing, stress testing, volume testing, scalability testing, and spike testing. Performance testing is a must not only before a new release but also prior to promotion campaigns and mega sales. This way, you will be sure that increased traffic will not cause website downtime.
Database testing
A database plays a crucial role, and thorough database testing is crucial for eCommerce products. It checks the DB's schema, tables, and triggers, ensuring data integrity and consistency.
Security testing
The negligence of security can cost an eCommerce business money, customers, and reputation. To identify and prevent potential security vulnerabilities, threats, and risks a whole scope of security tests needs to be executed including vulnerability scanning, security scanning, penetration testing, risk assessment, security auditing, ethical hacking, and posture assessment.
Usability testing
Usability testing is executed with the aim to ensure a smooth and pleasant buying experience. A focus group checks an online store to make sure that it is intuitive, easy-to-use, and super user-friendly, and that there are no ambiguities or difficulties at any point of a user flow.
As you see, to get prosperous, an online shop requires a lot of testing efforts. A great variety of tests should be performed to check it inside out and ensure great quality. We have shed some light on the main testing types for eCommerce websites. However, when it comes to mobile eCommerce apps, attention should be paid to some additional aspects.
Challenges of eCommerce testing
We would not say that the stated below aspects of eCommerce testing are challenges, we would rather consider them as its peculiarities:
eCommerce solutions based on Shopify, Woocommerce, or other CMS are created within an extremely short period of time, but they usually have multiple integrations with different third-party services. Such a great number of integrations requires significant testing effort, as each of them should be carefully checked for smooth and secure communication and interaction with the eCommerce website.
New devices, as well as versions of browsers, appear very frequently. Therefore, a QA team must continuously uncover newly-appeared device-OS-browser combinations and check whether an eCommerce solution is compatible with them. Whenever tests fail, a development team must undertake corresponding optimizations.
eCommerce websites usually provide users with a lot of functions. Therefore, for testers, it can be rather challenging to isolate every function and user scenario, especially at the initial testing stages.
Taking into account the fact that as a rule, eCommerce websites store the financial data of their numerous customers, they are often considered to be a great goal for hackers.
Accurate and comprehensive security testing requires special skills and considerable effort.
Conclusion
The eCommerce business is gaining momentum due to high demand and in spite of severe competition. Testing is what any online shop needs in order to acquire and retain a great number of customers. The thing is that eCommerce testing ensures high quality and outstanding service that all shoppers expect. For this purpose, tests of the most diverse types are carried out. If you do not want to lag behind but wish to stay ahead of the competition, engage professional software testing services and let professionals establish a sound QA process.