Nowadays, each web-developer that wants to check a site for compliance with diverse browser's versions. Certainly, user has a possibility to install on your PC/laptop, diverse browsers and visually watch how site is displayed on them.
Nevertheless, several automated cross-browser testing tools are disposable for executing full test of a website and watch how it is displayed in different browsers' versions on diverse platforms and screen resolutions.
Below is presented an enumeration of the useful free of charge and paid tools for cross-browser testing. Starting from cloud solutions and desktop applications. These tools for testing browser will assist web-developers and test engineers to simply test the site for compliance with all browsers, diverse IE versions and other not widespread browsers which are presented on the market of browsers . Below are presented cross-browser tools review.
Best 12 Cross Browser Testing Tools
1. LambdaTest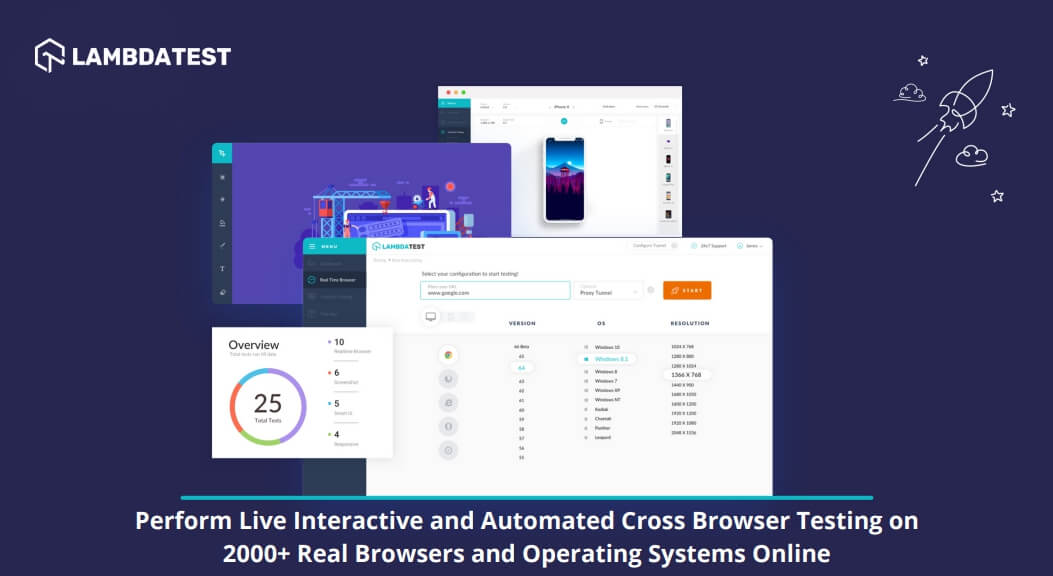 LambdaTest is a cloud-based platform that helps you perform cross-browser compatibility testing of your web apps and/or websites. It allows users to run both manual and automated tests over 2000 browsers, browser versions, resolutions, and operating systems. It allows one-click integration to a plethora of tools like GitHub, JIRA, VSTS, Slack, Trello, Asana, BitBucket, etc. This is remarkably easy to use platform.
LambdaTest also offers a unique desktop app for developers- LT Browser. It helps to perform responsive web testing and debugging on various viewports (mobiles, desktops, and tablets) across the majority of OS and browsers
2. BrowserShots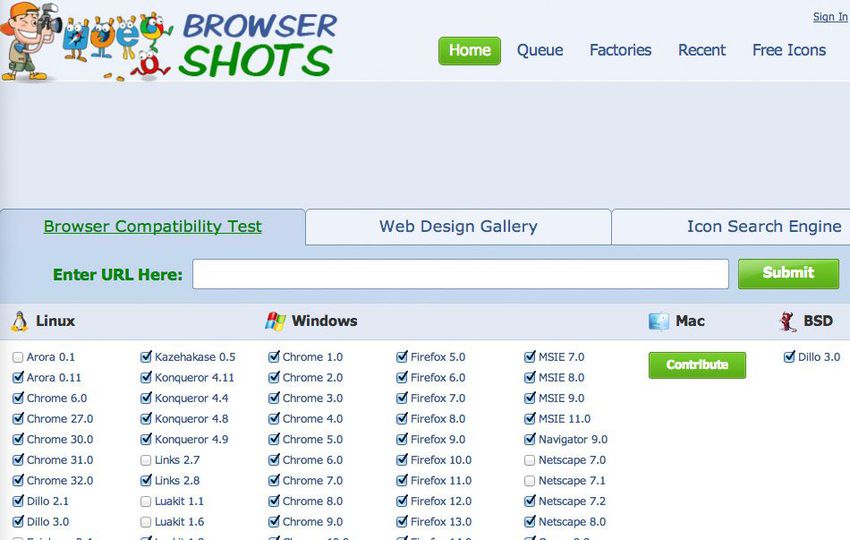 This application allows creating screenshots of the site in a variety operating systems and diverse browser's versions. It is an open source web-application, providing to developers with an easy way to verify the site for compatibility with diverse browsers.
After entering the address of a resource, it will be added to the queue of the jobs. Different computers across the network will open the site, each in a detached browser. After user can download the report with received results from the central server where they were uploaded.
3. GhostLab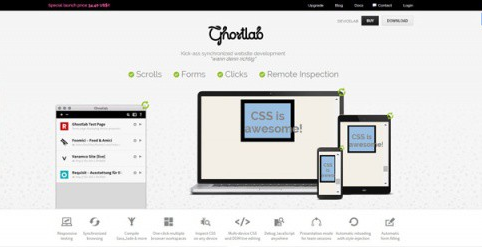 With the help of GhostLab user can test scrolling the pages, refreshing the pages, clicking links, filling out forms using a variety of input devices. This service enables to check the entire site.
The product is being produced for MacOS as well as Windows. It does not need to install, because it connects to the device with the turned on JavaScript. The pages which are located in the user's local folder, Apache local server or either server in a network with the function of the auto refreshing of tracking changes in files can be synchronized by using GhostLab.
4. BrowseEmAll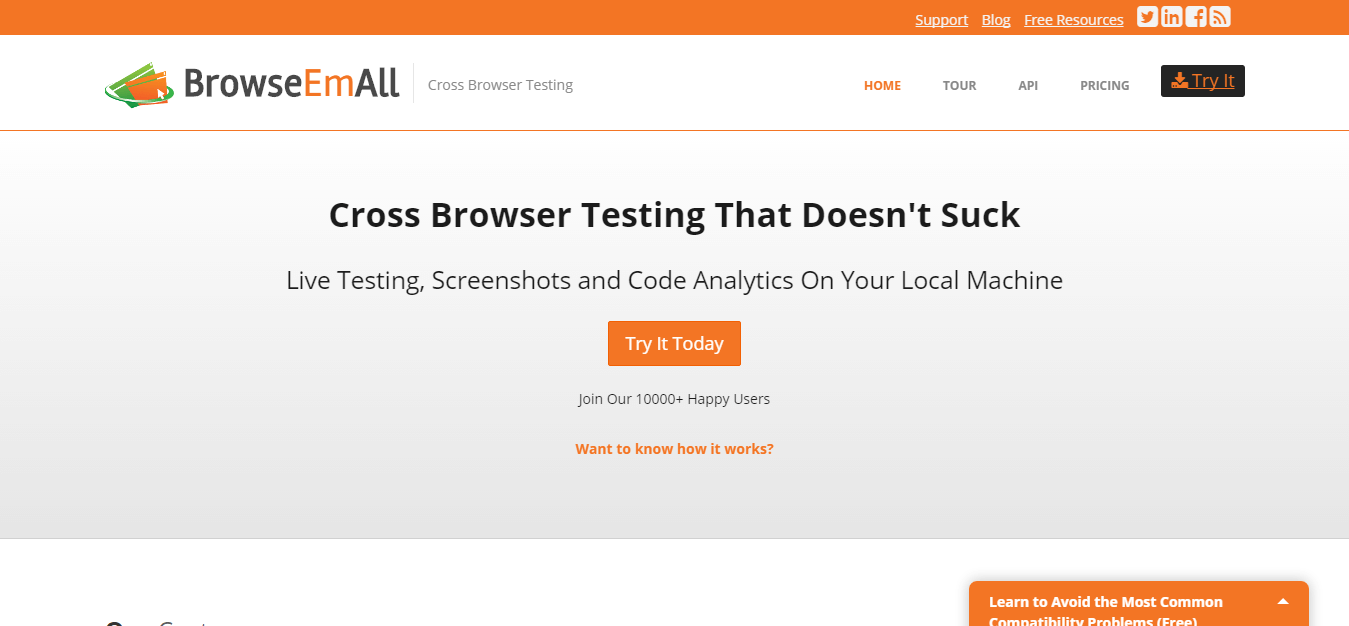 BrowseEmAll - is related to the desktop app. This app contains desktop and mobile browsers' simulators. Through this app user can generate analytical reports, do screenshots or provide test of compatibility.
After starting an application, a user can choose the desired resolution and essential browser, and then check out the web-site for compatibility without using server components. BrowseEmAll also contains tools for developers, with which user can test the elements of the site and to correct errors in its structure.
5. BrowserStack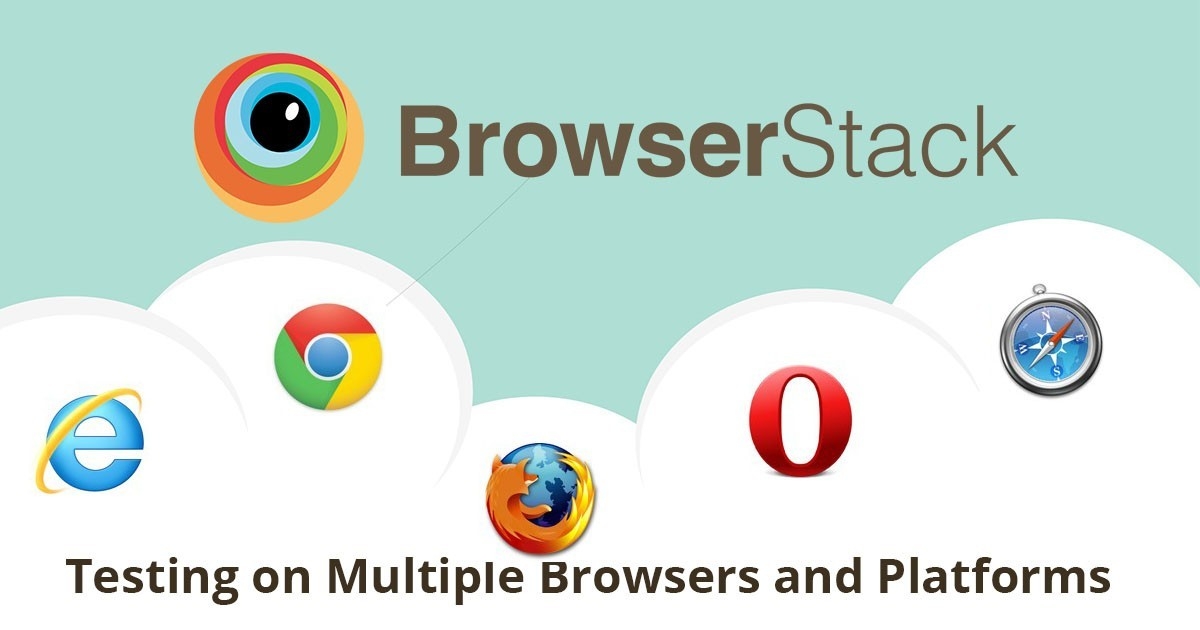 The application installs instant access to a diversity of desktop and even mobile browsers (currently supported by more than 300 browsers) with the possibility of checking the local and backend servers, as well as the security of the site.
BrowserStack is a cloud resource, which means that the application does not require the installation, it already includes the developer tools (including Firebug Lite, Microsoft Script Debugger, and many others). By using this app user can provide a quick cross-browser testing or debugging.
6. Browserling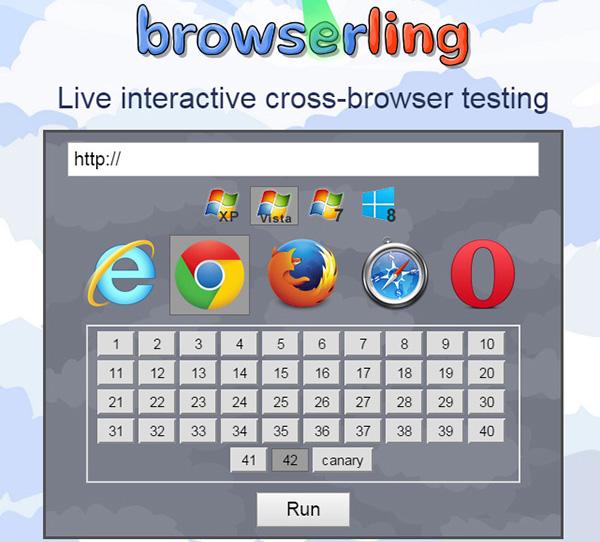 This app supports web testing for compatibility with all widespread browsers. Developers can upload their site and immediately watch how it will be displayed in a particular browser's version.
Browserling doesn't use simulators. Instead of them, the application launches the selected browser on a virtual machine. This gives a possibility to get very precise results. The application is based on HTML 5.0, so it runs directly in user's browser, and functions on any operation system. The test results can be stored in the form of screenshots or video.
7. Browsera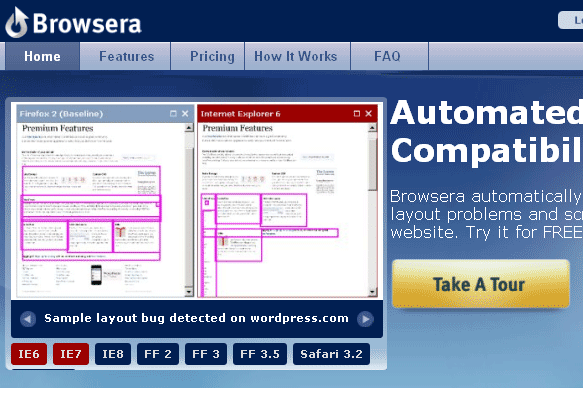 Browsera notifies user about potential problems with the layout in various browsers, which are found during the testing site. As a result, user gets the detailed report of pages where there are potential issues. A more detailed information about of emerging issues, the user can investigate by using screenshots with highlighted problem areas.
8. IE Netrenderer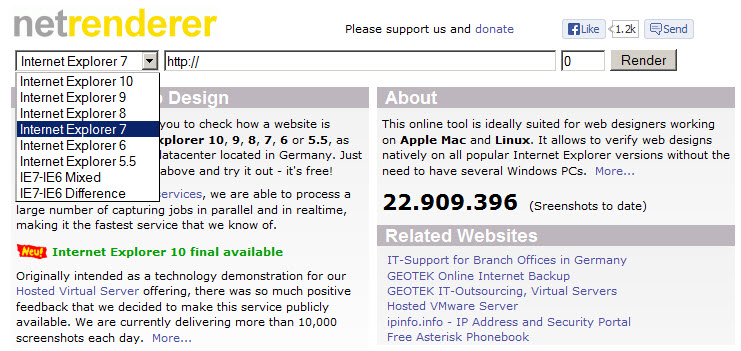 IE Netrenderer is designed for performing testing on various IE browser's versions, and also provides information how it is outputted for datacenter in Germany. You should just fill in the site URL address in the corresponded text field and you will receive the consequence immediately. This app has a possibility to handle with huge quantity of parallel requests in real time.
The unique mixed-mode overlay and spot the differences helps identify even the slightest inconsistency in the derivation of the pages in various browser's versions of IE.
9. Multi Browser Viewer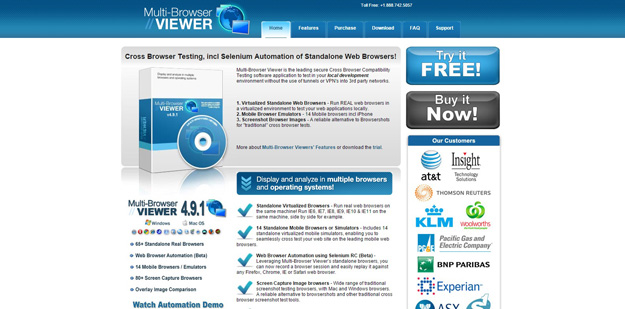 Multi Browser Viewer is a popular software for cross-browsing testing on a client-side. MultiBrowserViewer also offers users a variety of development tools such as the HTML verification, automatic corrections and syntax spell checking. The product is available in five languages ​​and is one of the few such programs that can run offline.
10. Testing Bot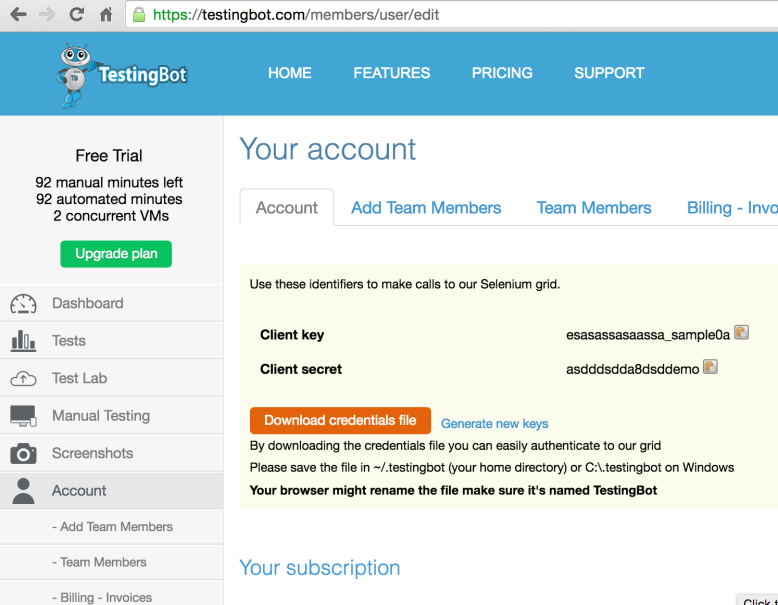 TestingBot provides a simple manual or automated test of compatibility with browsers using Selenium. The program supports more than 100 browser's versions and operating systems. By executing manual test user can use a cloud service to test the compatibility of the site with any browser.
User can also execute automated testing of the compatibility by using the cloud service, after indicating in what browsers a user wants to check, the start time and duration of the test.
11. Browser Sandbox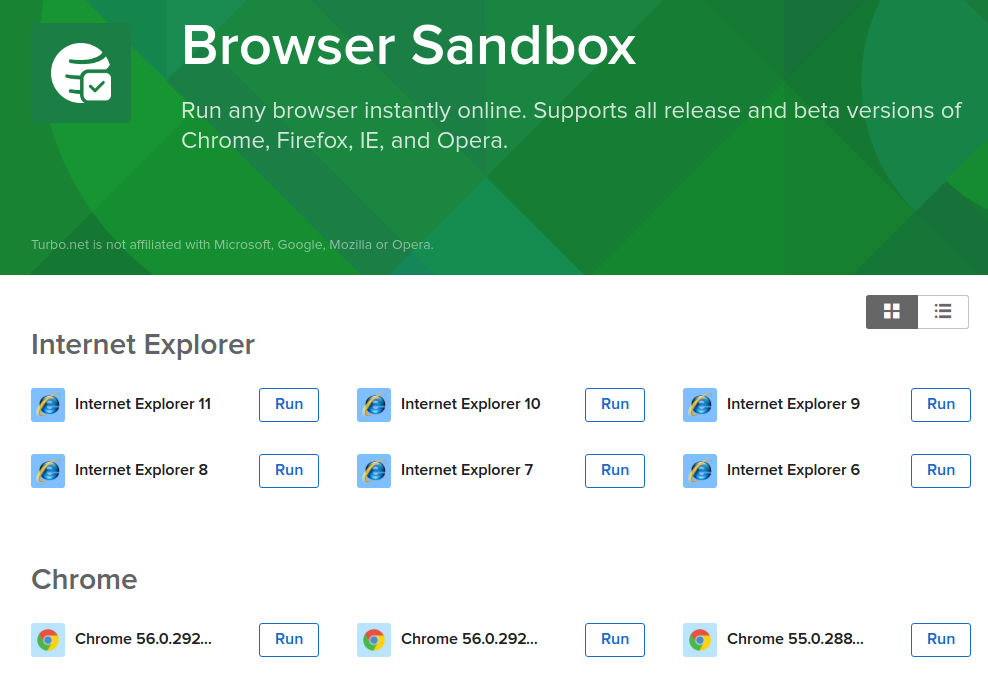 This application is based on HTML5 so the user does not have to install flash or JAVA. It supports SSH tunnels for using reverse-proxy your local host, or local server. Real browsers are running on servers in virtual machines (emulators are never used). Also all common browsers are supported.
12. Cross Browser Testing
CrossBrowserTesting supports the automatic creation of screenshots, testing pages hosted on the local host, the ability to check the compatibility with different mobile platforms. With help of CrossBrowserTesting authentication services can be used to test web sites that are closed by gateways of authorization.
This allows developers to check the sections of sites that are not available for other testing instruments. CrossBrowserTesting supports all major browsers and mobile operating systems.
Conclusion
In order to choose the best tool for cross-browser testing, it is necessary that the tool of your choice meets all your requirements. For example - can the tool work with test automation? Is the functionality of the tool sufficient or is it necessary to connect something else? How many different browsers and devices does the tool support? After receiving the answers to the questions you asked, you can choose the right tool to test cross-browser compatibility.