DeviQA Shines Among Top Automation Testing Companies at GoodFirms
By
Published on: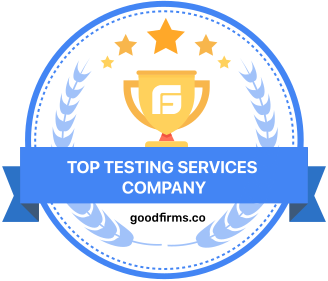 Software Testing services offered by DeviQA succeeds in grabbing GoodFirms' attention and is soon expected to be listed among the best software testing firms at GoodFirms.
About DeviQA
Founded in 2012, DeviQA envisions to provide clients with high-quality services in software testing and quality assurance. In addition to this, they also provide testing services for mobile, websites, performance and automation. Its base was established in Ukraine with a mission to render quality solutions maintaining ethics and in committed time.
Today, with these thoughts, DeviQA has emerged as leaders in the QA industry. With the strength of 200+ employees in the firm, they have made it possible to serve around 500 clients all over the globe. The passionate and skilled team at the firm have succeeded in finding solutions to complex problems and have proven their worth. QA engineers at the firm are qualified experts and strive to learn more each day.
They have several models of cooperation which the clients may choose as per their wish. This freedom to clients to choose the way of service they require has bestowed them with clients who trust them without question. With 13+ years of experience today, the firm is seeing rapid growth with this model. They are strategic innovators.
With the goal of implementing an efficient testing process and high graded solutions, they have attracted global giants like Xola, Sprinklr, WeHeartIt, CipherHealth, SoftNAS, Oncam as their key clients.
GoodFirms' Research Analysis:
GoodFirms is a review and research firm that examines the services of the IT service providers and uses three crucial parameters: Quality, Reliability, and Ability. IT firms are listed according to their performance, experience, portfolio, and market penetration and this list helps the service seekers to find the best company that can successfully complete their business projects.
DeviQA Evaluation Performance:
Software Testing
DeviQA is exceptionally good at finding out the gaps in the testing process and creating a firm testing strategy at reduces costs. Their processes have proven to increase testing efficiency. A transparent and measurable model gives an added advantage. Their model also optimizes the development costs Striving for improving the level of communication by different methodologies, today they have a great arena of clients in their account. They have continuously aimed at decreasing errors since inception and today they have achieved an expertize above average in this domain.
A client reviews software testing services of the firm as below.

Taking into account the peculiarities of the business, they design specific processes. Researchers at GoodFirms hence expect that very soon the list of the top software QA companies is going to be adorned with the name of DeviQA.
Automation Testing
Services offered in automation testing by DeviQA has shown a high graph of the reliability of the firms it serves. They help in the testing process which helps the clients to speed up their working processes. The reusable codes they develop have proven to be dependable and unique. With the use of APIs and direct message to the server, their work helps in increasing the overall efficiency. They even use multithreading to speed up testing. They have a full featured reporting system which works across cross platforms and devices like mobile and websites. A client reviews the testing services offered by DeviQA

DeviQA not only designs and develops the strategies but also writes atomic scenarios and reduce responsibility from the shoulders of their clients. These features have led them among the list of top automation testing companies at GoodFirms.
About GoodFirms
Washington, D.C. based GoodFirms is a maverick B2B research and reviews firm that aligns its efforts in finding the top Software testing and QA companies delivering unparalleled services to its clients. GoodFirms' extensive research process ranks the companies, boosts their online reputation and helps service seekers pick the right technology partner that meets their business needs. About the Author
Anna Stark is presently working as a Content Writer with GoodFirms - Washington D.C. based B2B Research Company, which bridges the gap between service seekers and service providers. Anna's current role lingers her to shape every company's performance and key attributes into words. She firmly believes in the magic of words and equips new strategies that work, always in with ideas, something new to carve, and something original to decorate the firm's identity.