Best Test Management Tools 2020 Ranking
By
Subscribe Now!
Get the latest QA news and tips from DeviQA
Test management tools are a vital part of quality assurance. Test management tools not only contain test cases but also helps to analyze the progress of your project, store the necessary documentation, and even display the activities of individual team members.
The implementation of a Test Management system to automate business processes is a strategic investment for any development and QA project team. Getting the right system and choosing the best vendor is crucial to your software quality success.
You should select a tool that fully meets the needs of your project.
So let's deal with the most popular systems, and you can choose the right one.
Here is a list of the best test management tools, including the definition and top features:
1. Practitest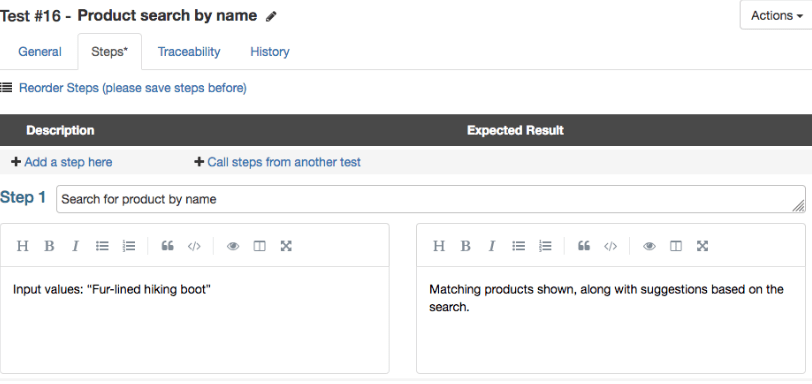 Website: www.practitest.com
Description: Professional end-to-end QA management for your manual and automation testing.
| | Features | |
| --- | --- | --- |
| 1-Way Integrations | Tracking Duration of Test Runs | End-to-End QA Management |
| Issue & Bug Tracking | CI Processes Integration | Time Metrics External Dashboards |
| Project Access Rights | Requirements Capture | Components |
| Reporting & Dashboards | Recording Bugs and Issues | Test Management |
| Live Support | Exporting Information | Versions |
| 2-Way Integrations | Easy Customization | Time Management |
| Smart Filters | Error-Reporting Filters | Manual Tests |
2. Zephyr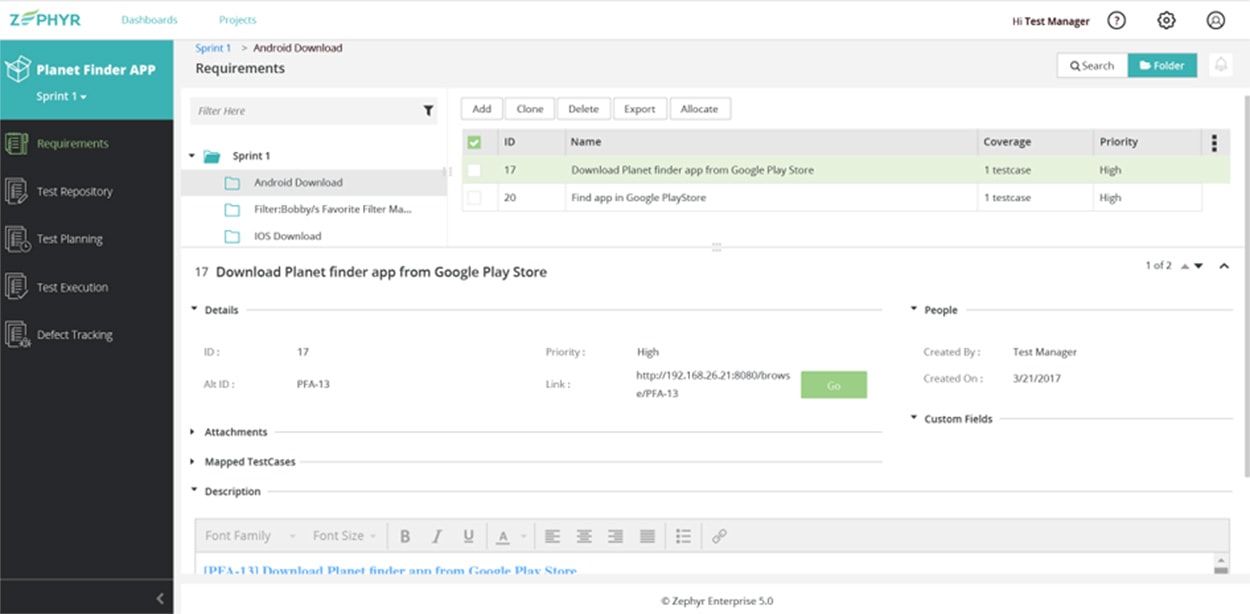 Website: www.getzephyr.com
Description: Zephyr provides a suite of tools to optimize speed and quality of software testing, empowering you with the flexibility, visibility, and insights you need to achieve Continuous Testing Agility.
| | Features | |
| --- | --- | --- |
| Single Project Test Management | Reports and Advanced Analytics | Tools to migrate from HP ALM and TestRail |
| Multi-Project Management | User Management | Technical consultation during product evaluation |
| Multi-Level Folder Structure | Scaling and High Availability | Premium Support Option (24X7) |
| Release Management | Native Integration with popular Automation Frameworks | Separate Admin credentials to integrate with Jira |
| Move/Copy Test Cases | Rich set of API's for easier integration | Custom Fields and Customizations |
| Share/Version Test Cases | BDD Support | |
3. TestRail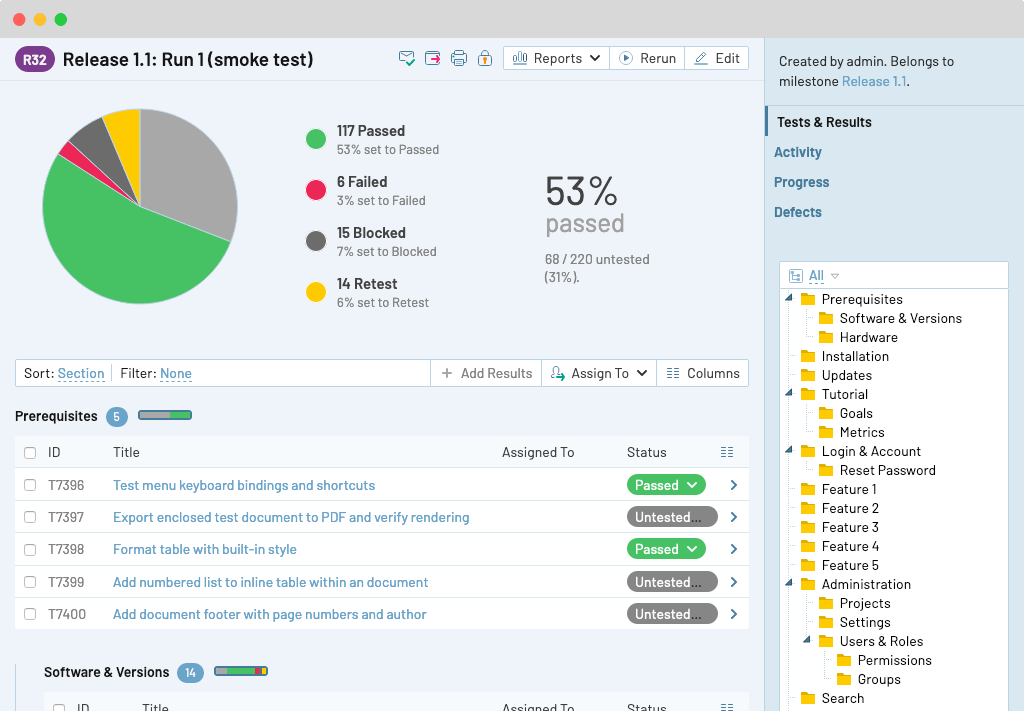 Website: https://www.gurock.com/testrail
Description: TestRail is a web-based test case management tool. Testers, developers and team leads use it to manage, track and organize software testing efforts. TestRail allows team members to enter test cases, organize test suites, execute test runs and track their results, all from a modern and easy to use web interface.
Features:
Flexible project organization
Rich & powerful test case management
Easily organize test suites, sections & cases
4. qTest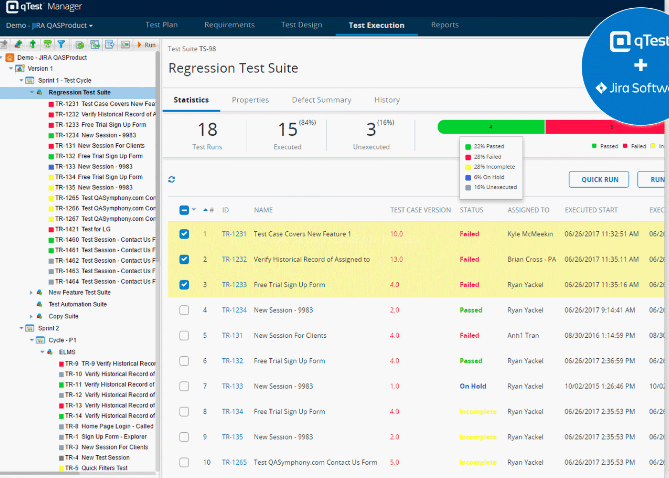 Website: www.qasymphony.com
Description: The qTest platform provides Agile teams with a suite of software testing tools designed to improve speed, efficiency and collaboration throughout the software testing lifecycle.
Features:
Test Automation Management
5. Xray Test Management for Jira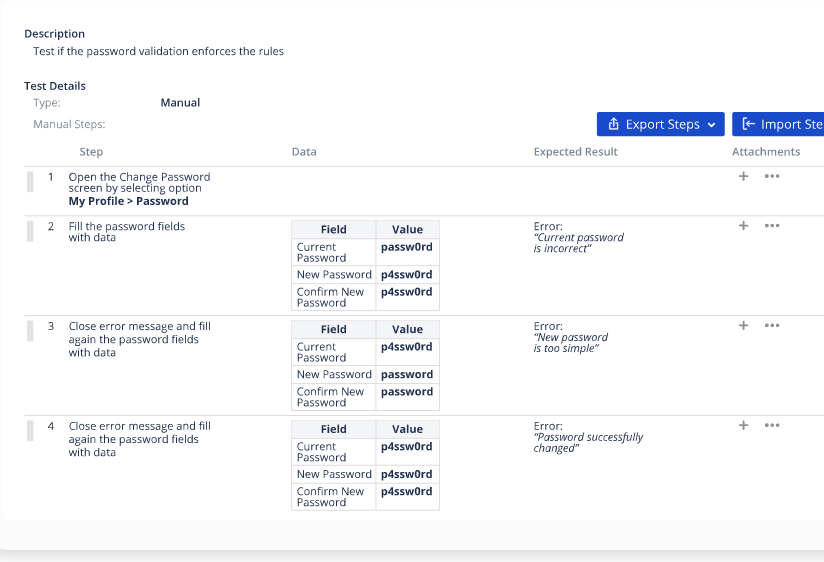 Website: https://www.getxray.app/
Description: Manual & Automated Test Management App for QA in Jira. Test Case Management, Software Testing and Quality Assurance in Jira.
Features:
Unify Testing and Development
Automate & Organize complex tests
Make DevOps more than a buzzword
Conclusion:
To choose the most appropriate test management tool, you should summarise key features required for your software testing company and compare the pricing of the apps. All of the listed apps have a trial period, so you can try it before buying.