A Few Quick Tips About Api Testing
By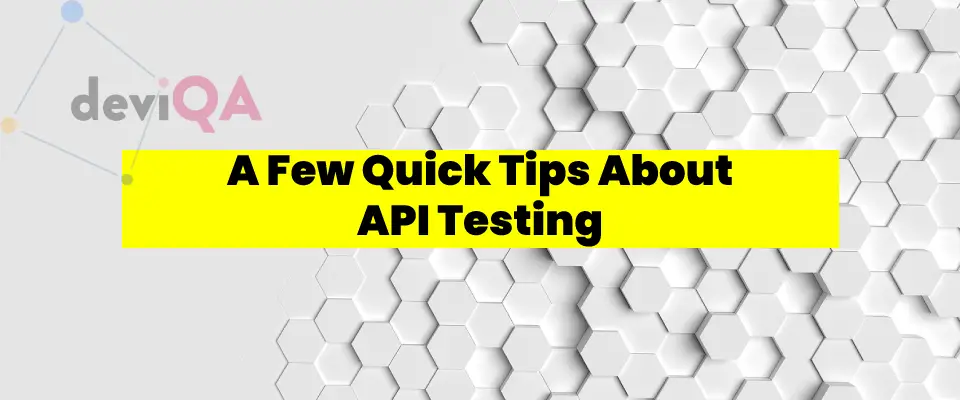 The API (application programming interface) tests are conducted to ensure that the developed API meet the expected requirements. Testers pass the APIs through functionality, reliability, performance and security tests, once an API proves to be perfect it's all set to launch.
The API is a set of methods that permit communication between two parts of a software/web application. It also accesses the assemblies and information of an Operating System, app or different operations. In other words, an API is an apparatus for software engineers to convey or acquire information form of software. The API test is made to confirm if the yield that originates from the primary application/database is right and well-organized and is helpful to use for another software. The API test is also responsible to determine output value (return over investment). The comportment of the data must be founded on the input (demand) parameter, check, to what extent it takes the API to recover the cost, what sort of validation is needed and if the confidential information is transmitted safely through the system.
How to do API Testing
API testing, unlike typical software testing, is more backend and less UI testing. Due to their complexity APIs require QA tester as well as a developer at the time of testing. In most cases, knowledge of the language in which API is developed is essential but some testing tools have made it optional. Below is the description of terminologies that are involved in API testing:
1.
Unit tests: In this testing, each function is evaluated one by one to examine their functionality
2.
Functional tests: This test is held after unit testing and it examines the functionality of different functions by combining them. The purpose is how the functions work collectively.
3.
Load tests: Huge load is put on the API and the performance is tested under it. This test is necessary to know either API works fine under heavy load or it breakdowns
4.
Runtime / Error Detection: testers run the API and test it with different inputs. If an error occurs API sends back to the development phase to do exceptional handling.
5.
Security tests: as the name suggests, testing is taken to check the threats by hackers. If it leaks, then safety measures are taken to secure it.
6.
User interface testing: In this type of testing, API is evaluated as per end-users' expectative. Testers ensure that all the elements of API meet the user requirements.
7.
Penetration tests: its similar to security test, conducts to evaluate the threats by external elements like hackers or competitor attacks.
8.
Fuzz testing: is conducted to test the API by cogently manipulating it to a system to attempt a forced crash.
API Testing Best Practices
Think like a Consumer
When you are testing an API, make sure to consider it precisely as the buyer would. Occasionally, throughout composing tests, we center a lot around what we know is the right answer. To competently evaluate our API endpoints, we have to interject the sort of blunders that a client could make. For a minute, we should remove the dev/tester cap and think like the client. All things considered, things once in a while break typically in a live situation, so it is critical to attempt as though we were at that point there.
Keep blueprints of your tests
It is crucial to design and structure your tests so that they escort you during the test cycle. Note down the tests must be configurable on multiple systems and can be operated in different test environments in varying configurations. This design must be followed and included throughout the development cycle. It will enable teams to even attach evidence and trace their performance with a little effort. Sequentially, the application's behavior can be adequately observed and reported throughout the process, under diverse conditions.
Generate a local library for repetitive tests
To approve and affirm, a behavior test must be rehashed, particularly to affirm comparable activities. In this scenario, it is advised to make a typical library to accumulate all the test demands and make the test cycles shorter, however more straightforward.
Types of Bugs that API Testing Detects
With the API test, you can discover blunders that can't be discovered when testing the UI, regardless of whether the UI calls the hidden API when it is utilized. For instance, you have a site where you can reserve a spot for lodging. On that page, enter the names of the visitors who wish to hold the room, tap Send, and after that call an API, to which the number of visitors and their names are transferred as parameters. When implementing API tests, for instance, by calling the API straightforwardly from SoapUI, you can inquire how to pass a negative number of visitors and perceive how the server will respond, and maybe find a mistake. With the UI, you can't pass a negative number of visitors. At that point, with API tests, you have significantly more adaptability for the sort of tests you can do, and, in this manner, you can discover mistakes that you couldn't discover just with UI tests.
Moreover, these are the specific bugs that can be detected by API Testing:
Connectivity issues and get an API response.
Inappropriate mistakes/warning to the caller
API Testing Challenges
1.
Updating the API test scheme: The scheme, in other words, the data format that handles the requests and responses for the API, must be maintained throughout the test process. Any update of the program that creates additional parameters for API calls should be reflected in the scheme configuration.
2.
Call sequence: As a rule, API calls are important to look organized and work accurately. This could be a test for the testing team in sequencing API calls. However, testing every individual API, there might be diverse stream arrangements that can be made from it. The yield of an API can work as a contribution of another API. The whole arrangement must be verified to transmit a flawless application.
3.
Tracking System Integration: The last test is to ensure that the API test framework is working effectively with the information following framework. This is important to restore the right answers about whether a call is working accurately. It is likewise used to latently watch API performance. Since this progression might be late all the while, the testing team might be too worn out to even think about giving you the consideration you need.